Hot Springs Pool Day Use Special
As you enter the pool area on cool days, a blanket of steam rises from the waters - an inviting sign for you to come in and enjoy the warm hot springs. The pool is heated by our hot springs mineral water, which emerges from the ground at between 140-150 degrees.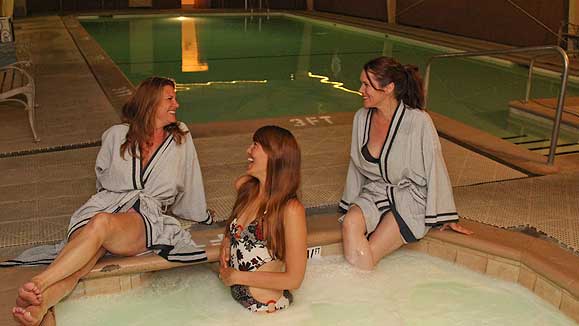 Use of our hot springs pool and jacuzzis is complimentary whenever you do a spa treatment or stay overnight. If you just want to come to Calistoga for day use of the hot springs, we offer a pool special that includes access to the hot springs along with a 25-minute back, neck and shoulder massage at a discounted price of $59. The hot springs are open year-round from 8:30 am to 10 pm.
Reserve Now
(707) 942-8000
Our natural hot springs pool is enclosed, with the water temperature maintained between 85 and 88 degrees. The two hot springs jacuzzis, in the pool area, are between 98 and 104 degrees. Our pool is covered, which makes it a welcome retreat on rainy days. If you are looking to work on your tan, you can do so on our sun deck or at our recreation and picnic area.
View Gallery