From the December 31 issue of Wine Country This Week: Visit a Spa For Couples Who Like to Get Dirty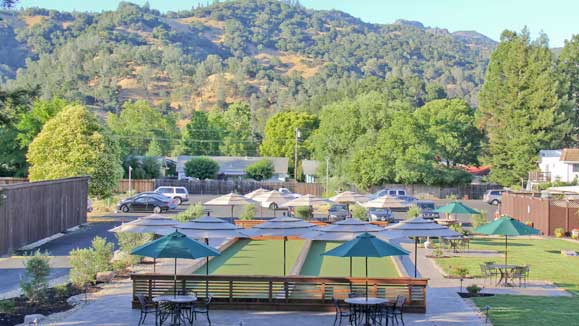 Want to do something romantic, healthful and relaxing that's guaranteed to get your partner naked and dirty? Experience something very unique in California's famous Napa Valley. We're not suggesting you join Francis Ford Coppola on a nude jog around the vineyards, but that's entirely up to you. Though Napa certainly has its share of magnificent wineries, the Valley boasts a gem of a town that's known primarily for health. And not the health benefits you get from drinking moderate amounts of wine.
Calistoga, on Napa's northernmost point, is known for its spas, mineral water hot springs, and natural wonders. The town's real claim to fame, however, is its authentic mud baths. Since the 1850s, people have flocked here to experience the relaxation and beauty benefits of the mud.
A great place to get a real Calistoga mud treatment is the Golden Haven Hot Springs Spa & Resort. Many people want this authentic experience; celebrity guests at the spa have included actors Danny Glover and Linda Fiorentino, and members of the band Green Day.
The mud bath gives those who experience it surprising sense of relaxation. At Golden Haven, you are led to large bathtubs overflowing with herb-enriched, authentic Calistoga mud. It is actually a combination of clay and peat moss. Going there with a partner is the best experience; the couples mud bath is the spa's most popular treatment.
Some spas put men and women in separate rooms, where you're forced to bathe among strangers. Golden Haven features side-by-side baths. If you opt for a couple's treatment, you both get dipped in the tropically warm mud, which is a little over 100 degrees in temperature. To be encased in mud is extremely comforting.
After your 12 minutes are up, you expunge yourself of all the mud with a high-powered mineral water shower. Then you are treated to a mineral Jacuzzi.
You enjoy 10 minutes in the Jacuzzi, then you slide onto a bed between heated, steamy sheets. After that, you are wrapped up in a warm blanket so that your body's temperature is slowly cooled. When you're finished, if you're feeling so calm that you'd like to call it a night, Golden Haven has accommodations available, including couples' Jacuzzi and sauna rooms.
Golden Haven Hot Springs, 1713 Lake St. Calistoga. (707) 942-8000. Or check the website, http://www.goldenhaven.com/.
Click Here to Read the Article: