Golden Haven Favorite Mud Baths In Napa Valley
ilovenapa.com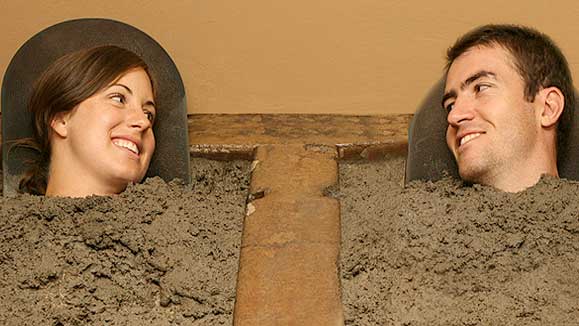 If you thought eating a large, steaming mass of oatmeal was the ultimate comfort experience, try bathing in one! It's ten times more relaxing, comforting and — oh yeah — unique.
Since the 1930s, thousands of couples each year head to Golden Haven Hot Springs to have one of the truly special experiences of Napa Valley — a co-ed mud bath with your Special Other.
Most mud bath spas in Calistoga, which is the heart of mud bath mania in Napa Valley, segregate men and women; you take your skin-purifying dip in damp dirt in a room with other people of the same sex.
What we love about Golden Haven is the fact that the private mud rooms have, basically His and Her tubs (though they might more accurately be called troughs). You dunk into damp dirt as a duo.
The ultimate spa package here is a four-stage affair. You start with a bath in a tub filled with dark gray, oatmeal-textured, clay, peat and mineral water heated to 104 F degrees. You immerse yourself, slipping just under the surface. Despite what you might think, you don't sink to the bottom as a corpse might, slipped into cement in an episode of The Sopranos; the peat keeps you rather buoyant.
Whether this warm and oozy mineralized muck actually pulls toxins from your skin is irrelevant - this is just so much FUN! Like a hot-air balloon ride or winery tour, add this mud bath experience to your list of "must-dos" for your next visit to Napa Valley.
After showering off the mud, your second stage spa experience is a brief, but relaxing Spa with your Special Other. You are still alone together (if one can truly be "alone together") in your large, private mud room. Then you are lead to a darkened room where you are each wrapped in a thick wool blanket, left to warm and ripen like a sensual cheese. You and your loved one, or special other, lie side by side on separate beds. You can talk in the dim light or you can fall asleep. Chances are, you'll start with one and end with the other.
Next, you are lead to a private room where, individually, you receive a firm, or gentle, (please specify) conventional 50-minute massage. We received ours from a masseuse who operated a battery of U.S. Army Hawk missiles in Saudi Arabia during the Persian Gulf War. She came back home to pursue a more peaceful career. She says it's less stressful taking out the knots from a client's muscles than it is taking out enemy missiles. Oh.
Golden Haven Hot Springs, 1713 Lake St. Calistoga. (707) 942-8000.
Click Here to Read the Article: